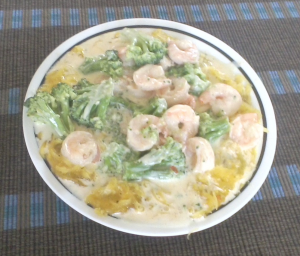 In previous posts I have stated that I am not a Nurse, Doctor, or Diabetes Educator. I am a Speech Pathologist who happens to be an insulin dependent Diabetic—who loves to cook. I have always been bewildered by Diabetics who do not take this killer disease seriously and who just eat whatever they want whenever they want and sort of hope for the best. I have chosen to do everything that can possibly be done by an individual to guard against being taken out one organ, one limb, one system at a time by diabetes. Toward that goal, I have learned to adjust and alter recipes so as to make them as "diabetes friendly" as possible. I confess, some of my attempts have been shunned by my dogs, and they will pretty much inhale anything. But I have come up with some real prize winners.
A couple of weeks ago I embarked on a day with one of my Speech Pathology clients. She is in her late 20s and developmentally delayed. She reads at roughly a 4th grade level, has profoundly limited number concepts, and nearly no ability to follow sequential instructions. It seemed to me that following a recipe step by step to make a meal would be a good exercise for her. I brought her to my house and the project began. The recipe was Broccoli Shrimp Alfredo. I won't go into the details of how the preparation / cooking proceeded, but the end product was scrumpdiddelyiscious!! ( I know, I know — that is not a real word, but I think it conveys the point.) Oh My Goodness it was good!!
However, it was loaded with delicious calories and carbohydrates, so I could only eat about a half cup when I really wanted to eat the whole thing! The next evening I engaged a bunch of substitutions and made the dish suitable for Diabetics. The biggest game changer was substituting spaghetti squash for the fettuccine. I love all pastas, but the carbohydrate load requires an enormous bolus of insulin. Substituting spaghetti squash gives you the effect of pasta, but negligible carbs —- and it tastes good. My finished product was just as delicious as the original, with far fewer calories and minimal grams of carbohydrates per serving. And the best part was, I could eat pretty much all I wanted without getting in trouble. Yeah!
Diabetic Friendly Broccoli Shrimp Alfredo
Cut a spaghetti squash in half lengthwise, scrape out the seeds, place cut side down in a large baking dish, put water in at about an inch or so deep. Either microwave on high for 25-35 minutes or bake in 355 degree oven for one hour.
After it has cooled, take a fork and scrape the squash out of the shell. It really does come out in long "strings", looking like spaghetti. This whole process can be done a day or two before you use the squash if you keep it in an air tight container in the fridge.
Ingredients
1 pound uncooked medium shrimp, peeled and deveined
3 garlic cloves, minced
1/2 CUP Smart Balance (or other light margarine or butter)
1 package (8 ounces) light or fat free cream cheese, cubed
1 CUP Carb Smart milk
1/2 CUP shredded Parmesan cheese
4 CUPS frozen broccoli florets
1/2 tsp. salt
Dash pepper
Directions
In a large skillet, saute shrimp and garlic in butter until shrimp turns pink.Remove and set aside.
In same skillet, combine the cream cheese, milk and Parmesan; cook and stiruntil cheeses are melted and mixture is smooth.
In a saucepan, cook broccoli. Drain. Stir the broccoli, shrimp, salt and pepperinto cheese sauce; heat through.
Warm the spaghetti squash in microwave (if you have no microwave, you canput the squash "noodles" in boiling hot water for a few minutes, then drain well).
Serve squash topped with all the Alfredo you like.
6. ENJOY