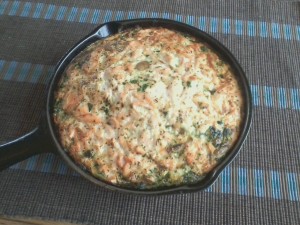 If you look at the the first letter of each word in Standard American Diet, it becomes SAD. Oh how true, and, in my opinion the sadness begins with breakfast. Pancakes with syrup, waffles with syrup, French toast with syrup, boxed cereal, cinnamon rolls, breakfast burritos (here in New Mexico breakfast burritos typically have potatoes in them along with all the other ingredients that make them divinely wonderful), biscuits and gravy, grits, toast with jelly—and on, and on, and on. Carbohydrates and sugar to the extreme. Maybe in the highest concentration of some people's entire day. Do you get my drift? What is a Diabetic to do? Combine those types of foods with the Dawn Phenomenon and Diabetics don't stand a chance. How many of you suffer from the Dawn Phenomenon? I do. What is the Dawn Phenomenon, you ask? That is a situation where, for ill-defined, or maybe even unknown, reasons the blood sugar is extremely high around dawn, when the fasting of the night would make one expect blood glucose to be low. It is outrageously frustrating to wake up for the day, check your sugar after consuming nothing since around 6:00 P.M. the evening before, and your sugar is over 200, or maybe even 300. Crazy!! If I coupled that with a carbohydrate-heavy typical American breakfast, I could probably have a stroke and die before lunch. So, creativity time. I make what, for lack of a better name, I call an omelet. It bears little to no resemblance to a real omelet, but it is very good, and meets my extremely reduced calorie and carbohydrate needs. The recipe varies greatly depending on what is in the house, or on my mind when I make it. I have a small 8 inch cast iron skillet, which is my preferred skillet, and what I always make my "omelet" in. The breakfast that is pictured here, I made this morning. Once it is made and cools, I cut it into even quarters and refrigerate in four sealed containers. One "omelet" lasts me for four days. The pictured one ended up with each breakfast containing 107.5 calories and 4.5 grams of carbohydrate. Compare that to a stack of pancakes with butter and syrup, bacon or sausage, a side of scrambled eggs and a glass of orange juice. Even with only 4.5 grams of carbohydrates, I must inject either 3 or 5 or 6 units of insulin because of the Dawn Phenomenon. With this particular omelet all of my chosen ingredients are there for a specific purpose as far as healthy eating goes. Here is what I made this morning:
Diabetic Breakfast Omelet
4 Cups sliced mushrooms
2 Cups frozen spinach 4 boxed egg whites
3 Oz. steamed salmon (I steam the biggest salmon fillet I can find then freeze small amounts—3-4 ounces— to use as I need them)
Pre-heat oven to 350 degrees
Sauté the mushrooms. When nearly finished, add the spinach and continue to sauté until cooked. Measure out the egg whites. Add about a quarter as much water as there is egg product, black pepper, crumble the salmon into the wet ingredients. Smooth and flatten the mushroom/spinach mixture in oven-appropriate 8 inch round cast iron skillet, or baking dish. Pour the wet mixture over the mushroom/spinach mixture. Bake for approx 30-35 min. depending on your oven. Once cooled, cut into four equal pieces, refrigerate, enjoy. Each morning I warm one in the microwave and usually top with a dollop of fat free sour cream, or some salsa, or a little bit of both. Any vegetables or meat that you enjoy can be used, as can a little cheese. As you make alterations to suit your tastes constantly keep in mind the calories and carbs in your alterations!