My search for low calorie, low carbohydrate desserts is relentless. I do have a sweet tooth. I love desserts and sweet snacks. Before diabetes, I used to say I invented the concept of "chocoholic".  Diabetes SERIOUSLY messes with my love of sweets. You simply cannot be a diabetic and indulge in sweets the way I want to. So when I find a dessert that meets my requirements I jump on it. Trouble is, in 20 years of looking, I have not found one dessert recipe that I can make and eat without substituting low cal., low carb something for something in the recipe that is high cal, high carb. So here is a cake that is absolutely amazing. For one thing, instead of the usual high calorie oil, mashed avocado is used. Yes — avocado. Also, the frosting is not made of confectioner's sugar, like almost all frosting. It is made of tofu. Don't let those ingredients put you off. This chocolate avodcado cake is incredibly delicious. It is a dense, solid cake, so a very small piece after dinner is just perfect. The trick is to just eat a small piece. I just made one in an 8 inch square pan. When the finished product was cut the result was 9 pieces. Each piece was really quite large, so after dinner, my husband and I would eat half of a piece. Perfect ending to a good meal. I hope you enjoy it as much as we have.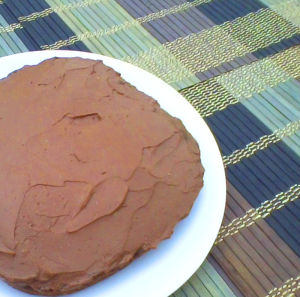 Chocolate Avocado Cake
Ingredients
1 Cup whole wheat flour
6 Tbs. cocoa or unsweet cocoa powder
1/2 tsp. baking soda
1/2 tsp. salt
3/4 Cup stevia
1/2 Cup mini choc. chips
1/4 Cup low carb, reduced fat yogurt (vanilla is good)
3/4 Cup water
1/4 Cup mashed avocado
2 Tbs. pure vanilla extract
Instructions
Preheat oven to 350 degrees. Grease (I use Pam to further cut calories) an 8 inch round or square pan. Set aside. In a large bowl combine flour, cocoa powder, baking soda, salt, choc. chips and stevia. Stir very well. In a separate bowl whisk together all remaining ingredients. Pour wet mixture into dry and stir until just combined (don't over mix). Pour into greased pan. Bake for 25 minutes, or until a wooden toothpick inserted in the center comes out clean. Put in the refrigerator for 30 minutes (that step is a must. Don't skip it).
Tofu Based Chocolate Frosting
Ingredients
1 Pkg. (1 Cup) semisweet chocolate chips
1 box (12.3 oz.) nonrefrigerable, extra firm tofu
2 Tbs. rum, or orange or coffee-flavored liqueur, or water
1 Tbs. pure vanilla extract
Instructions
Melt chocolate chips (in microwave or double boiler) until soft. In a blender, combine tofu, rum and vanilla. Blend until smoothly pureed. Stir chocolate until smooth. Scrape into blender with tofu mixture. Blend until smoothly pureed. Pour into a bowl and nest in another bowl of ice water. Stir often until frosting is cold (10-12 min.).
Frost your chocolate avocado cake right away, or cover the frosting and refrigerate for up to 2 days. Stir before using. Frost the cake. Enjoy. (store uneaten cake in the refrig.) Don't forget that the goal here is to control calories and carbs and to KNOW how many grams of carbs you are eating. I am sure that you have noticed that I do not list the nutritional values for any of my recipes. I do calculate them and I do keep very close track of what I am consuming  —  especially carbs, because I MUST inject the correct amount of insulin, or I get in trouble fast. I leave the math to you simply because, if you make changes in my recipes, you cannot then depend on my calculations. If you change something in my recipes, you must make the accompanying change in the computations.