In a prior blog I talked some about a few substitutions I use and the method I use to calculate the calories and carbohydrates in the foods I make. Here is a recipe that I have altered "my way". It is for a strawberry bread. It's really good for breakfast, dessert, or snack. Now, with diabetes, when I make fruit/fruit-nut/vegetable breads, I do not make them in loaf pans. It is much easier to keep track of the calories/carbs per serving if you make them in muffin tins. From pre-diabetes days I have "Texas" sized muffin tins, regular size muffin tins, and, since diabetes, I have miniature size muffin tins. I use the miniature just to keep down the size of the treat I eat.
Strawberry mini muffins
INGREDIENTS:
3 C flour, unsifted
1 3/4 C Stevia
1/4 C honey
1 t baking soda
1 t salt
2 10 ounce packages frozen strawberries, thawed
1 C unsweetened applesauce
4 egg substitute egg equivalents
DIRECTIONS:
Mix dry ingredients
Stir in honey
Make a hole in center of mixture and add thawed strawberries (drain the juice first). Beat
well.
In separate bowl, beat together applesauce and egg substitute.
Generously coat muffin cups with Pam, or similar product.
Bake at 325 degrees.
If you don't care how big your treats are and use "Texas" sized tins, bake for 45 minutes and check them by lightly pushing on the top of a muffin. If it springs back nicely, it is done. If you use normal size tins, bake for 30-40 minutes and check them. If you really care about calories and carbs and use the mini-muffin tins, bake for about 30 minutes and check) Professional chefs tell you exactly how long to bake things. I live at 7600 feet elevation, and my oven sometimes has a mind of it's own. I don't know where you live, or how your oven works, but you do—-so play with the baking time, but pretty much leave the temperature alone. You can also check for done-ness by sticking a wooden toothpick into the center of a muffin. If it comes out slightly damp or dry the muffins are done.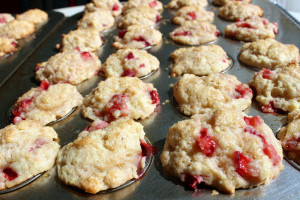 While the muffins are baking, jot down the calories of each ingredient in one column and the
grams of carbohydrates in another column. add each column. Once the muffins are done, count how many you have and divide each number by the number of muffins. Wallah! You have a non-scientific, but very close calorie and carb. count per muffin. As I said in a prior post, this is not a scientifically tested and proven method of calculating the calories and carbs in your own creations. It, however, has served me extremely well for the past 20 years.