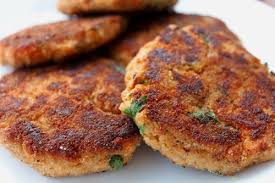 If you have been following this blog, you have probably picked up on the fact that I eat a lot of seafood. Actually I love a lot of foods, but in the realm of meats, I would probably rather eat seafood than any other meat. The caution is, I have been reading a lot lately about the reasons why I should read labels even more carefully than usual, and be sure to purchase seafood that has been wild caught, in Pacific, or North Atlantic waters and processed and/or packaged in America or Canada. (Wow that was a run-on sentence. That comes from trying hard to be "politically correct"). Anyway, when wild Pacific salmon is plentiful, I buy a LOT of it, freeze it, and try to eat it all before it gets too old (even frozen it can get "old"). For me that is not a difficult assignment. If I think I am not using it fast enough, I will make jerky out of a bunch of it. That is a wonderful low calorie, no carb snack, full of protein and nutrients. Much better for a person than a bag of potato chips! Anyway, a few evenings ago I steamed far more salmon than necessary for one meal. The next evening I made one of our favorite dinners — salmon patties. As usual, I made substitutions to the original recipe to cut as many calories and grams of carbs as possible and still create a delicious meal. My substitutions were: instead of two cans of canned salmon, I used 12 ounces of steamed salmon; boxed egg whites instead of two eggs; instead of regular mayonnaise, I used lite; I make my own panko; and I fried them with Pam instead of olive oil. How you make yours may differ, but one of the patties made my way had 196 calories and 4.3 grams of carbs. Not bad! Here is my recipe:
Ingredients
12 ounces steamed salmon
2tsp. Old Bay Seasoning
2 boxed egg white equivalents
2Tbs. Lite mayonnaise
3/4 cup panko
1 large stalk celery finely chopped
2Tbs finely chopped chives
Pam (to fry in)
Instructions
In a large bowl, gently combine all ingredients until well mixed. Form into 6-8 patties.
Heat a non-stick skillet (I say non-stick, but I always use one of my tried and true cast iron skillets. Not everybody has one, but that's how I cook). Generously "Pam" the skillet.
Very gently place the patties in the skillet and cook 2-4 minutes, until golden. Carefully, gently flip and cook another 2-4 minutes.
 Serve with a squeeze of lemon or some Tartar sauce.
Hint
If you have plenty of time, form the patties and refrigerate for an hour or so. That helps them stick together better when you cook them.