29 July, 2015
Red Chile Boats (Chili Con Carne)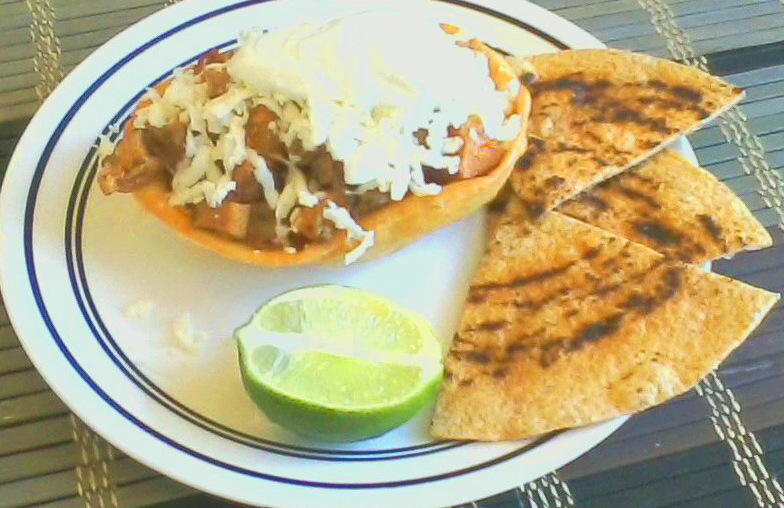 Posted in :
Lunch & Dinner
on
by :
Miss Kate
A Dish Similar to Chili Con Carne
If you read my bio you know that I grew up in Maryland. One dinner I loved was when Mom made "chili con carne", otherwise known as "chili". A few lifetimes after I grew up and moved away, I ended up in New Mexico, where I learned that the chile of Southwestern states bears no resemblance to Maryland chili con carne. Namely — in the Southwestern states, "chile" is meat in a sauce made of ground red chiles. That, onion and spices is it. It is hot, spicy, and absolutely delicious. I have hinted, suggested, and even said that I am no longer at an age that is considered Young. Somewhere or another after I became a "Senior Citizen" my digestive tract decided eating fiery hot red or green chile dishes was no longer an option. But I love the taste of either red or green chile. So, as with everything else, I have used a few tricks to soften the blow of hot chiles, but still get the flavor. Southwesterners (especially Texans, I have noticed) can get extremely passionate about their chili. The chili cook-offs of the Southwest can get pretty hot—and I do not necessarily mean the seasoning kind of hot. Because of that, my way of making red chile mild enough to please my stomach would likely get quite a snort out of self-respecting Southwestern red chile cooks, but I can eat it, enjoy it, and survive the next 18 or so hours. If you want flaming hot red chili, get red chiles, roast them in the oven long enough to get the skins off, remove stems and seeds, place in blender and blend the dickens out of them. Use them to make a chile sauce for your meat. If your digestive tract needs mild, follow the recipe for my red chile boats.
Red Chile Boats Recipe
Ingredients
1 1/2 pounds of beef
1 1/2 pounds of pork
1 large onion (2 1/2 cups diced)
5 large garlic cloves
2 cans mild enchilada sauce, or mild red chile sauce
cumin
cilantro
Instructions
Cut the beef and the pork into small bite-size pieces (removing fat as you go)
Mince the onion.
In your largest skillet, slowly brown the meats with the onion. As that is browning, smash/ mince the garlic cloves. Add to the browning meats.
When meats are nicely browned, put in crock pot. Add the red enchilada sauce/red chile sauce, plus/minus one heaping tablespoon of cumin, plus/minus one heaping tablespoon of cilantro, salt and pepper if you like.
Cook in crock pot on low a half a day or more.
Most people serve their red chile as a side with a meal, or over rice, or in a large bowl as the main meal. I put it in "boats". These can be made by you out of corn tortillas, or flour tortillas. The other night, I was in more of a hurry and used "store-bought" tortilla boats (similar to, but different from flat bottomed taco shells).
Fill a "boat" with red chile,top with grated white Mexican cheese and a generous dollop of fat free sour cream.
Squeeze some fresh lime over it and enjoy!